About the Daughters of Wisdom
International Committee of the Friends of Wisdom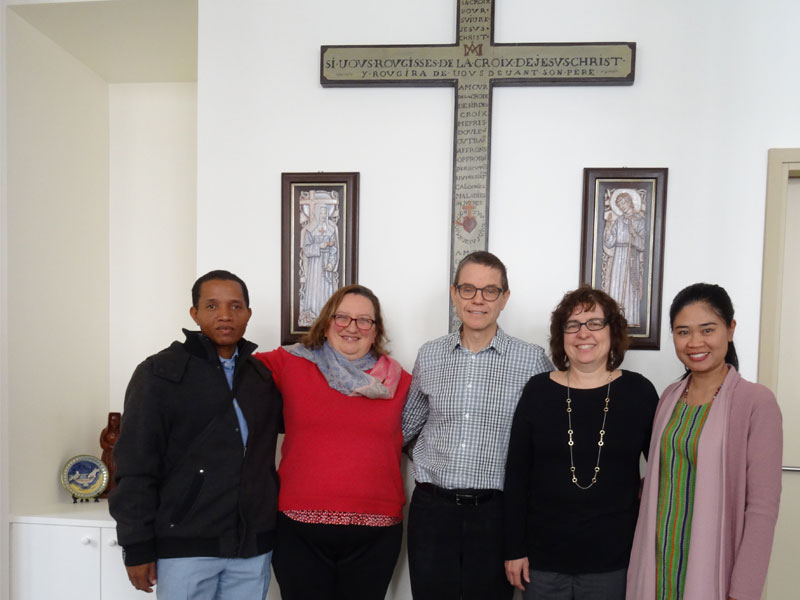 Véronique, Christien, Kiki, Hélène, Jean
Siteweb : https://adlsinternational.blogspot.com
Friends of Wisdom are laity who share the spirituality and the mission of the Daughters of Wisdom, a religious Congregation founded by St. Louis Marie of Montfort and Blessed Marie Louise Trichet, in Poitiers, France, in 1703.
These Friends of Wisdom already exist for many years now in many countries.
Recently, an International Committee was formed. Their first meeting was held in Paris with the General Council during the Holy Week from March 28 to 30, 2018. The committee is composed of five Friends
It was a time of discovery and encounter. After a bit of history about the lives of the Friends and of the Daughters of Wisdom, the General Council withdrew to let us work as a team. We were invited to autonomy with confidence and respect.
With joy, we reflected on our mission and identified priorities. Aware of representing all our Friends around the world, first of all we will begin by getting to know the realities of each country. Then, we will work on the setting up of a website for Friends and the creation of a logo.
This is the beginning of an audacious project that we place in the hands of Wisdom and entrust to your prayers. As we are reminded by the song of last summer's pilgrimage, all together, we have: "A thousand reasons to hope!"