About the Daughters of Wisdom
Our Founders
In the Footsteps of Montfort and Marie-Louise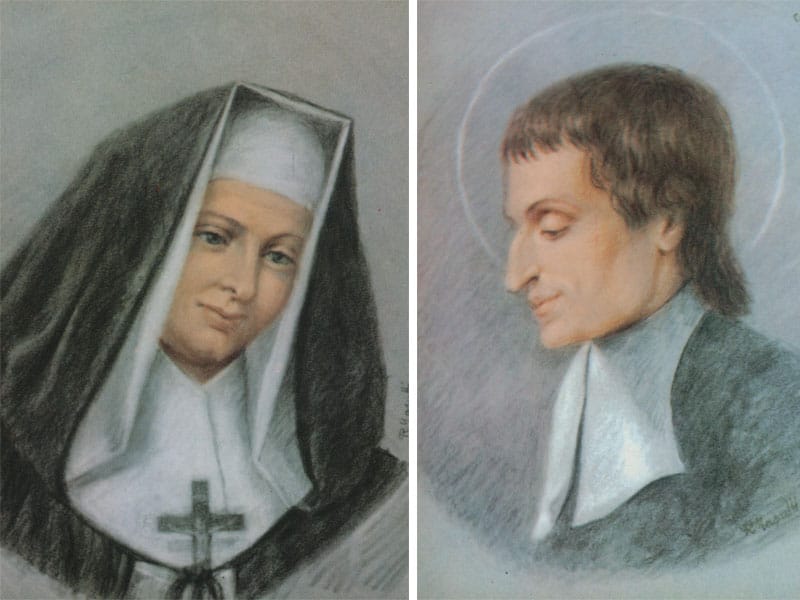 To spread the fire of love on earth, the Holy Spirit entrusts individuals from each age with the gifts necessary to look anew on the realities of their times. To some, he gives the charism of Founder, source of a specific spirituality and a mission to be transmitted to disciples who will continue to pass it on.
In his weakest human moment, at rue Pot de Fer in Paris, Louis-Marie Grignion de Montfort, a young priest, lives an intense spiritual experience. Meditation on the Wisdom literature of the Bible and proximity to people wounded by life lead him to contemplate Eternal and Incarnate Wisdom in Jesus of Nazareth.
Marked by this profound relationship with Christ, nourished and steeped in the Word of God, Montfort turns towards his brothers and sisters, particularly the poorest among them. He shares this treasure of Wisdom with them: God's tenderness unfolds upon humanity. Montfort ceaselessly proclaims this way of happiness through abandonment to Providence.
At the same time, a young Marie-Louise Trichet is seeking God's will for her, under the guidance of the Holy Spirit. Her encounter with Louis-Marie at Poitiers would determine her future. Louis-Marie invites her to live according to the way of Divine Wisdom; he reveals to her the folly of the Cross.
Marie-Louise commits herself fully and embarks on a journey, unaware of any possible contradictions:
– She aspires to silence and the hidden life, but she is going to live with the poor at the General Hospital in Poitiers, surrounded by noise and quarrels. Folly or wisdom?
– In the heart of the distress surrounding her in this place of exclusion and marginalization, she contemplates Wisdom Incarnate and Crucified. There, she discovers Wisdom's love and tenderness, and becomes a reflection of it for others. Folly of the Cross?
Faithful to listening to Christ's call, with the direction of her spiritual guide, she undergoes a long period of deepening the realization of her vocation. She understands little by little that Montfort is counting on her to found a new kind of religious Institute and to respond, in an unheard-of way, to the pressing needs of her time.
The Spirit weaves bonds of deep friendship between Louis-Marie and Marie-Louise. Together they work to found the Congregation of the Daughters of Wisdom, established according to our tradition on February 2, 1703, in Poitiers.
These first ten years of slow growth are followed by another period marked by important events for this courageous woman:
– "Leave Poitiers for La Rochelle" (1715), a difficult but rich experience for Marie-Louise and Catherine Brunet, her first companion;
– Encourage Father de Montfort to write down a Rule (1715), so that they can move from intuition to institution.
– Learn from afar of the death of the Founder, April 28, 1716.
Marie-Louise continues on her path with determination, creativity and fidelity. She establishes the Congregation at Saint-Laurent-sur-Sèvre, where Montfort is buried, and begins there the first novitiate. She then opens numerous communities, creating houses of charity, schools and hospitals, which she personally accompanies when they are first established.
Before her death on April 28, 1759, she writes a spiritual Testament addressed to all of her "present and future" sisters. She asks them "never to deviate from the primitive spirit of the Holy Founder, which is a spirit of humility, poverty, detachment, charity and union with one another".
Daughters of Wisdom of today, we are heirs of a unique gift of the Spirit for the Church. We follow the spiritual path taken by Montfort and Marie-Louise, as presented specifically in The Love of Eternal Wisdom. This work opens us to the action and presence of Wisdom in an intimate dialogue where personal freedom is involved in the process of transformation.
In his True Devotion to Mary, Montfort proposes a tender and true devotion to Mary that will encourage the growth of Wisdom in each of us and help our true identity emerge.
The spiritual heritage that we received from our predecessors through the long line of Daughters of Wisdom is a call for today in view of tomorrow. This invitation to fidelity, creativity and apostolic renewal encourages us to share our spirituality with God's People.
By exploring the past from the perspective of the present, we write our personal story and the story of our Congregation, rich with experiences of commitment and liberation.
Such was the plan (that Montfort) had formed
for a Congregation of Daughters that he wanted
dedicated to the Word Incarnate, Wisdom,
in order to confound the false wisdom of the people of the world
by spreading the folly of the Gospel among them.
That is why he wanted them to bear
the beautiful name of Daughters of Wisdom.