You are here :
Home
/
Understanding My Vocation
06/04/2021
Understanding My Vocation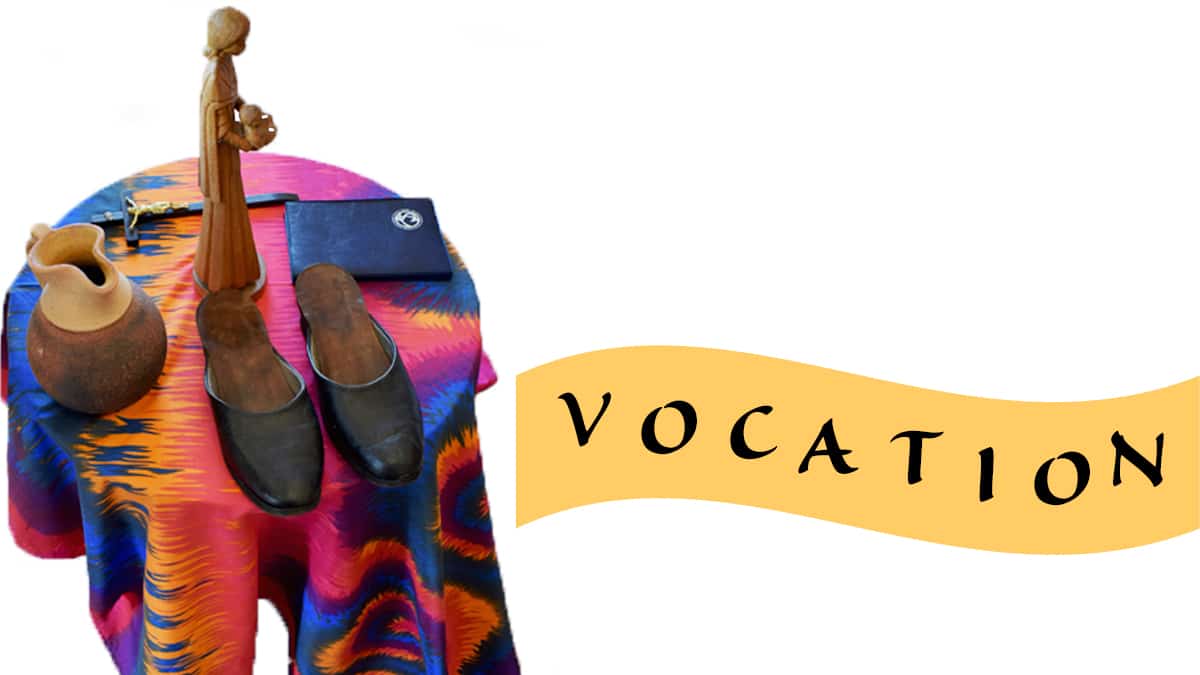 Sr Siobhán Boyle DW
What does it mean to say we have a vocation?  Vocation is a word that is used in different contexts.  I believe a vocation is a response to a call, which emanates from deep within each one of us and is deeply personal to each of us.  The word vocation has its roots in the Latin language to call and to reveal and can leads us to find our path throughout our lives.  [1].
In the words of Thomas Merton, [2]
Our vocation is not simply to be, but to work together with God in the creation of our own life, our own identity, our own destiny….to work out our identity in God.
As we work with Wisdom in the creation of our own lives, in discovering our own identity and destiny we allow ourselves to be shaped and reshaped by Wisdom.  As we live and grow on this path of discovery, we discover new paths and new ways of being.  In the words of St Paul, "For we are God's work of art, created in Christ Jesus to do good works, which God prepared in advance for us to do".  (Ephesians 2:1) We are called to be the canvas on which Wisdom creates the us in Her own image.
and there was a new voice
which you slowly
recognised as your own,
that kept you company
as you strode deeper and deeper
into the world,
determined to do
the only thing you could do —
determined to save
the only life that you could save.
Mary Oliver – The Journey[3]
As we mature and develop and co-create our own canvas with Wisdom, we can discover that we are called, not to one vocation but, possibly, to several vocations.  Often, we talk about a vocation to marriage or religious life but within each of these vocations there is the possibility of a vocation of poet, artist, doctor, dentist, teacher, nurse – the list is endless.  We do not have only a single vocation or single possibility for our lives – there are many possibilities and vocations to discover.
My Journey
Does this description of vocation resonate with me?  Yes, it does.  I made my first profession in 2012 a week after my 50th birthday and in October 2020, in the middle of the Coronavirus pandemic, I professed my final vows.
As I journeyed with Wisdom and as Daughter of Wisdom in this time, I recognised the three questions that each of is invited to ask ourselves at some time in our lives:
Who am I?
Where am I going?
What forms my outlook on life?
In the words of Denis McBride – the lived answers to these questions determine the authenticity of our lives.[1]
The journey of discernment of my response to Wisdom's call to become a Daughter of Wisdom, challenged me to constantly ask these questions of myself and it continues to do so today.  The canvas on which Wisdom creates and recreates us is never finished and I am continually invited to discern my vocation within my vocation.
At my Final profession I choose several symbols to represent both my journey and the answers to these questions.
 The Jug with Water
The jug with water – symbolising the Gospel story of the Woman at the Well – has always been an important aspect of my journey.  Through her encounter with Jesus the Woman from Samaria discovered who she was and changed her outlook on life.  My encounter with Wisdom continues to challenge me to focus on where I am going, where I am being asked to go and how this shapes who I am and how I live this in my daily life.
 Shoes of Blessed Marie Louise Trichet
Blessed Marie Louise Trichet, along with St Louise Marie de Montfort, founded the Congregation of the Daughters of Wisdom in France in 1703 and throughout her life of faith, hope, courage, fidelity, and love, she provided and continues to provide me with hope and inspiration on my journey.  The shoes, from the archives of the Daughters of Wisdom gives me direction as I navigate the choices that face me in each stage of my journey.
 The Cross
The symbol of the Cross is a symbol of hope and is a sign of our life with Jesus Christ Wisdom Incarnate.  In the words of St Paul (Gal 2:19–20)
"For through the law I died to the law so that I might live for God.  I have been crucified with Christ and I no longer live, but Christ lives in me.  The life I now live in the body, I live by faith in the Son of God, who loved me and gave himself for me."
Mary
The statue of Mary, from Madagascar, represents our trust and faith in Mary as the Mother of Wisdom.  The woman who recognised her call and accepted with grace the gift of the Spirit of Wisdom.
The Rule of Life of the Daughters of Wisdom
The Rule of life of the Daughters of Wisdom provides the structure and the framework of my life, gives me direction, and informs my outlook on life.
[1]               https://etymology.net/vocation
[2]               Thomas Merton (2007).  "New Seeds of Contemplation", p.10, New Directions Publishing
[3]               Oliver, Mary.  New and Selected Poems.  Beacon Press, 1992.
[4]              McBride, Denis.  Journeying with Jonah: The Struggle to Find Yourself.  Redemptorist Publications, 2015.
Keywords :