You are here :
Home
/
Conversation with Marie-Louise of Jesus
08/12/2020
Conversation with Marie-Louise of Jesus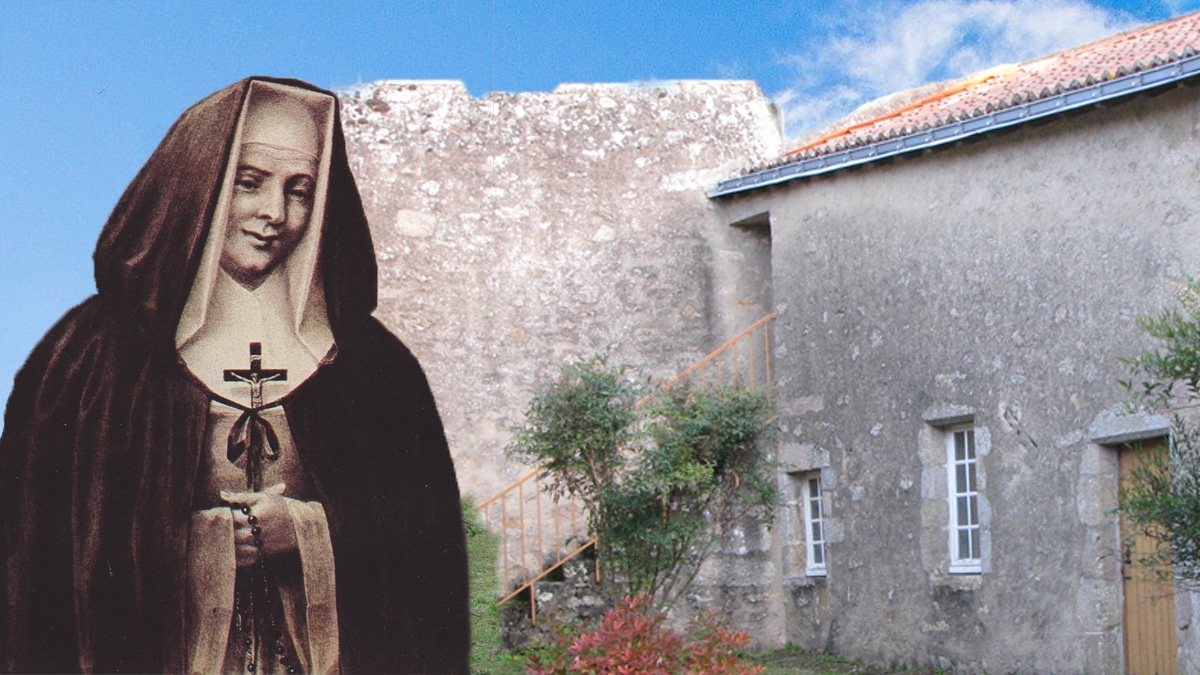 Tercentenary of Marie-Louise's arrival at the longhouse
Sr Louise Madore DW
Hello, Marie Louise. Early in the day I love to come and place myself under your tender gaze to speak with you and share what dwells within my heart. Today, I will simply let you speak and share what touched you the most in the various celebrations or meetings that marked the Tercentenary of your arrival at St-Laurent-sur-Sèvre.
My dear daughter, I always relish these perfect times with my daughters, but also with some lay partners who come to confide in me.
 It is difficult for me to share what I lived in St-Laurent or elsewhere in the different countries during these tercentenary celebrations. I admit that I was highly touched by the desire and commitment of my daughters, and the Montfortian family including our lay partners, to live this year as a time of deepening the spiritual path of Wisdom. I was myself initiated by Father de Montfort and it gave meaning to my entire life. This spiritual pathway led me to dedicate myself to the love of Wisdom, daily transforming me so that all my actions are done with love and through love. This spiritual path is a gift to the Church and in a special way to you and to all those who want to live according to Montfortian spirituality.    
 I also share with you, that it is with some emotion that I saw you, my daughters and other pilgrims, coming to capture and recall the memories of my arrival at St. Laurent. The "Maison longue" still remains bare. Yes, only Divine Providence and the conviction that it was the will of God pushed my companions and me to execute such a daring gesture of folly. We had to be daring for the sake of Wisdom.
 In fact, this first place where I lived with Catherine, my first companion, and then with others, is still dear to my heart. We were so happy to come live and pray close to Father de Montfort's tomb, and to commit to the service of the poorest inhabitants and to finally find a place to form younger women to apostolic religious life according to our Founder's spirituality.
 Moreover, I am deeply grateful to many lay persons, including Mrs. De Bouillé and the Marquis de Magnanne. What can I say of the precious help, both material and spiritual, given by Brother René Joseau, Father Jacques Le Vallois and other Montfort Missionaries? All these people enabled me and my Sisters to meet the challenges of hunger, precariousness and even rejection. All my life, since meeting Father de Montfort at the General Hospital in Poitiers, La Rochelle, St. Laurent and other foundations, I always saw the importance of collaborating with lay people and with the surrounding clergy. This is still an important aspect today for you my daughters. Even Father de Montfort always involved the laity in the organisation of his missions and projects such as the Calvary at Pontchâteau. It is the mystery of the Incarnation: to live and collaborate to bring the presence of my dear Jesus in this world.
 You will understand, then, that it is a source of great joy for me to see you here together, Brothers of St-Gabriel, Montfort Missionaries and lay partners, and to collaborate and celebrate together! Such was the desire for communion and for missionary and spiritual cooperation, that I often shared with Father de Montfort and our friend, Father Gabriel Deshayes.
 I was surprised when I saw that many people, even some members of the Montfort family, discovered why the 3 Montfortian Institutes settled here. This year gave them the opportunity to better understand the history, the importance of the relationship and more importantly the intervention of God's providence in the arrival and establishment of the 3 Institutes in the little town of St-Laurent-sur-Sèvre.
 I am not going to forget the year 2020! You persevered …with the upsetting event of Covid. You lived with insecurity in your heart while organizing everything, not knowing if the projects and celebrations would be held!
 You had to put your trust in Providence. Most disturbing, I am sure, was to learn the painful situation of our Sisters in Italy, especially in San Remo. I was upset and deeply affected also!
Before going, Mother Marie-Louise, is there a message or a wish you want to entrust to me at the end of closing the Tercentenary?
 At the end of this year, all of you, my daughters, and the population, live a time of great upheaval, great insecurity, which makes you vulnerable and precarious. Do not be afraid for the love of Wisdom crosses and penetrates everything and transforms your actions into seeds of life. Don't get caught up in fear; it is a bad counselor. On the contrary, be women of hope, believe in creative Wisdom, be daring. What is important is to do all your actions with Love and out of Love.
 Thank you for this conversation Mother Marie-Louise and for your advice. We look forward to meeting again for another encounter.
Keywords :