You are here :
Home
/
I am quite content…
03/08/2018
I am quite content…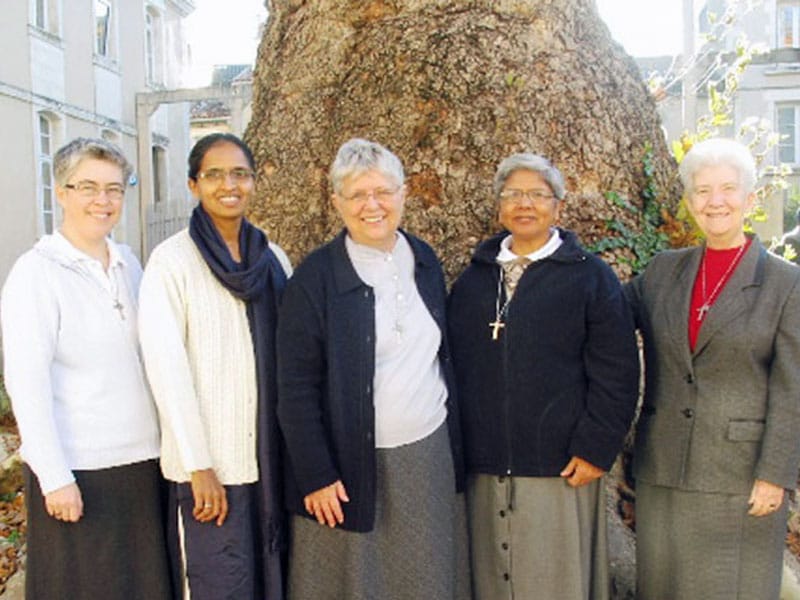 Sr. Louise Madore D.W.
Congregational Leader
As we conclude the presentation of the fulfillment of our mission during this 6-year mandate in this year of the 25th anniversary of the Beatification of Marie Louise of Jesus, one sentence springs forth in our hearts:
"I am quite content with the state that God has ordained for me."
In her letter dated February 25, 1721, in spite of the precarious state she was in upon her arrival at St. Laurent, Marie Louise wrote this deep thought to her brother Julien. She stated that the only thing that mattered for her was to be aware that everything she was living allowed her to discover the constant presence of God in her life.
I am quite content… Such were the words that rose from our hearts at the end of this mandate. All that we lived, all the joy, hope and suffering as a Team was a gift of God, crossed and permeated by the presence of Wisdom.
I am quite content… Because we have been, more than once, touched by the effective collaboration of the Entity Leaders and their Council. We will not forget the progress made during our various meetings: Councils of Congregation, Entity Visits, commitment to reconfiguration paths, communications, etc. All this common work gave us the impetus and audacity to think outside the box and dare to create with you new ways for the future of the Congregation.
I am quite content… For we witnessed, at all levels, the unwavering participation of the members of the Congregation in the undertaking of major projects. With emotion, we often witnessed the generous availability of our Sisters for various international services accepted as normal requirements in their lives as Daughters of Wisdom. In the course of our visits, regardless the age of some Sisters, we saw everywhere the love of the poor and the lowly, in humble everyday life under difficult conditions and in challenging commitments against injustice. During our visits, we encountered on some of your faces, expressions of affection and on your lips, words of assurance of your prayers for our mission and for the Congregation. We always felt the prayerful and affectionate support of our senior Sisters during these past 6 years.
I am quite content… Aware that not everything was perfect and that you probably had to forgive some missteps… we thank you for your understanding and we count on the tenderness of God.
I am quite content… … For despite the various precarious situations we experience, the Congregation is and will always be called to reveal to the end the folly of love of Wisdom for humanity. But to do this, we must again open our hearts, be available, and dare undertake a path of conversion. Montfort tells us: "If you do not risk anything for God, you will never do anything great for Him." With Marie-Louise, let us follow the ways of the folly of love of Wisdom leading us in a prophetic way, to "Love without borders."