You are here :
Home
/
Conservation Easement at Wisdom House
09/03/2020
Conservation Easement at Wisdom House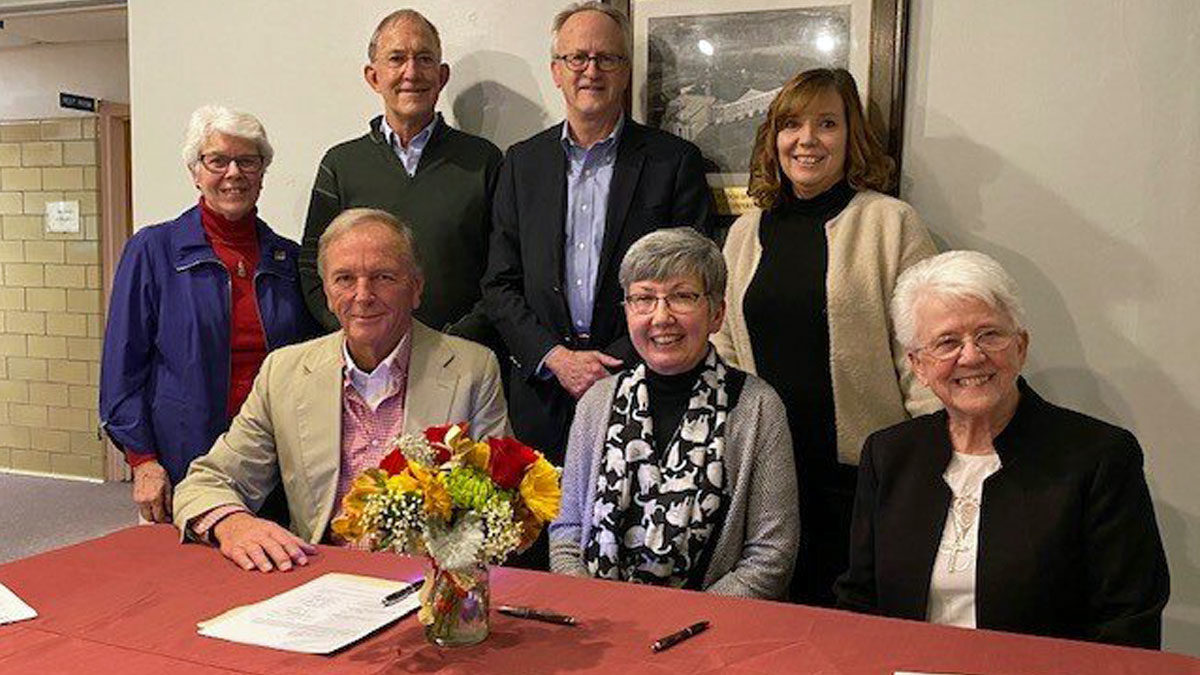 A formal signing of a Conservation Easement for land owned by of the Daughters of Wisdom at Wisdom House in Litchfield U.S.A. was signed on Feb. 10, 2020.
The Conservation Easement places 54 acres of the total 74 acres of land in protection in partnership with the Litchfield Land Trust.
Deborah Kelly, Executive Director welcomed the guests and expressed her joy at guiding Wisdom House into this new phase of its mission with the Conservation Land Easement. The Easement, she said, "makes both an ecological and moral statement supporting our mission".
Sister Rosemarie Greco, DW, retired Executive Director of Wisdom House, spoke of the growing ecological and sustainability commitments of Wisdom House during her tenure. Now 54 of the 74 acres of the land of the Daughters of Wisdom (DW) will be protected in perpetuity.


Dr. John Fulkerson of the Litchfield Land Trust said, "This land will now be a safe refuge for wildlife, establishing a permanent connection between Topsmead and the Danaher-Stillman preserve on Clark Rd."
David Geiger, President of the Litchfield Land Trust highlighted the purpose of the Land Trust: to preserve, conserve and be stewards of the land. The collaboration with the Daughters of Wisdom and Wisdom House is unique. This adds to the 150 land parcels already under the stewardship of the Land Trust.
Sister Cathy Sheehan, DW, Province Leader of the DWs, highlighted that this is a special day for the Daughters of Wisdom: "In August 2018, we committed ourselves to collaborate with women and men engaged in a movement for justice, peace and care for our common home, the Earth (Pope Francis, Laudato Si). With this step, we join with you to preserve this land for future generations. This process officially began as we celebrated the presence of the Daughters of Wisdom in Litchfield for 70 years. We remember all the women who went before us who loved and cared for this land and that have made today possible. I also want to express thanks to the international leadership team of the Daughters of Wisdom who have supported and given permission to make this Conservation Easement a reality. "
Before entering into the formal signing, Litchfield's First Selectwoman Denise Raap confirmed the importance of this event. She said, "I applaud the efforts of the Litchfield Land Trust volunteers and the landowners in our community that realize the importance of land conservation so that the people of our town as well as future residents of our community will benefit with preserving open space for recreation and passive enjoyment."
Attorney Peter Ebersol, a Land Trust member, presided over the signing of the Conservation Easement agreement. It was signed by Sisters Cathy Sheehan, DW and Evelyn Eckhardt, DW and David Geiger. Ebersol then called upon two witnesses. Attorney James Wu and Dr. John Fulkerson to add their signatures.
Applause and refreshments and good camaraderie followed!
Keywords :