You are here :
Home
/
UNANIMA International – Woman of Courage Award
09/12/2019
UNANIMA International – Woman of Courage Award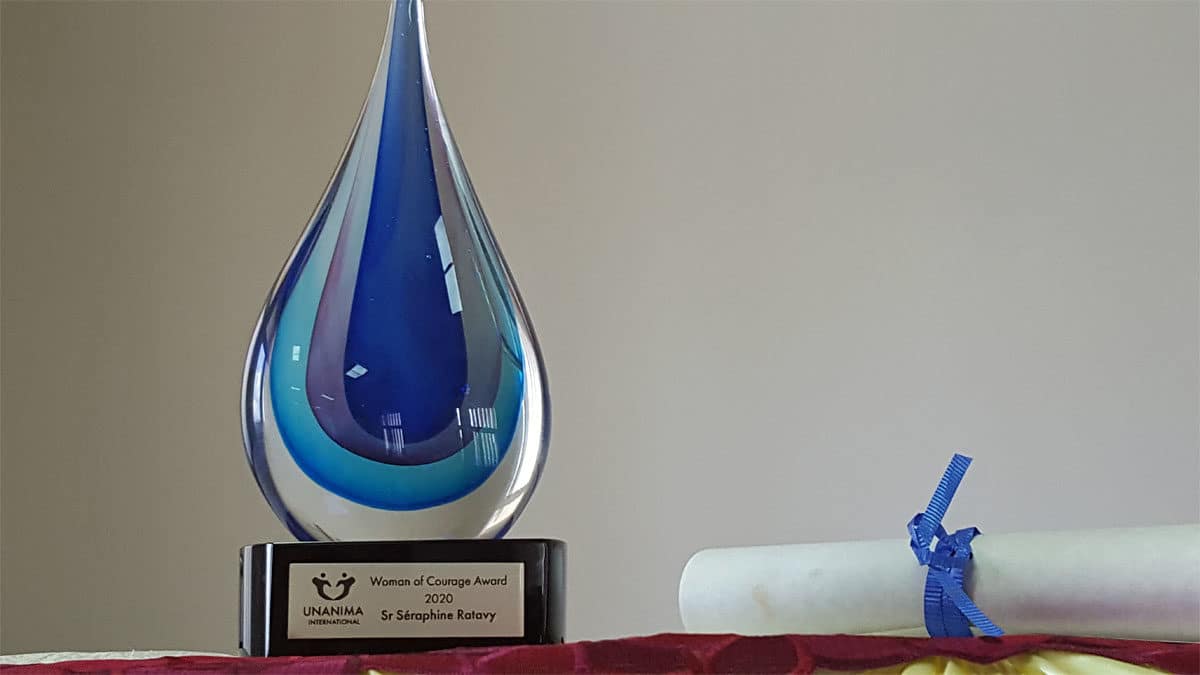 Sr Maureen Seddon, Delegation Leader
of Great Britain and Ireland
Each year, UNANIMA International presents a Woman of Courage award, the recipient having made an outstanding and extraordinary contribution to the betterment of the life of women and children.
During the Council of the Congregation in Madagascar, it was an occasion of immense joy for us the participants, to witness the presentation by Sr. Jean Quinn, Executive Director of UNANIMA of this prestigious award to Sr. Séraphine Rativy.
Sr. Séraphine's inspirational story of courage and empowerment began in 2013, when she generously responded to the call to go on mission to PNG. On her arrival she was immediately sent to the newly opened mission in Nomad, the remotest part of the Diocese which is only accessible by small airplanes.
The small Gebusi Tribe of this area, danced, sang and welcomed the community including Sr. Séraphine who had travelled thousands of miles to come to them.
A talented and practical woman with competency in agriculture, she risked stepping out of her comfort zones by learning English as well as the language of the people. With dedication and enthusiasm, she taught the women to become skilled in sewing, knitting, nutritious cooking, health/ hygiene, agriculture and farming. All of this was not only to transform the lives of the women themselves but also that of their families.
It was with deep regret, that due to difficulties regarding travel and communication the community eventually had to close. However, through the great courage of Sr. Séraphine and the wonderful support of the local people who dearly loved and respected her, the mission was able to continue. Since there were no possibilities for her to arrive directly in Nomad, the Yulabi people built her a small house on stilts, so that, following her several days journey on foot through the forest she could sleep and then continue her journey to Nomad.
Sr. Séraphine, what a great privilege it was to be present, along with many Sisters of your Province and members of your family, at your award ceremony. A day of rejoicing and immense pride! Thank you for all you have so selflessly accomplished and for witnessing so faithfully to the words of Mother Marie Louise:
"If I were a piece of cloth, I would give myself to clothe the poor"!
Keywords :